News
Since march we are now OEKO-TEX STeP certified. For more information please klick on the picture.
We are a member of AFBW- Allianz Faserbasierte Werkstoffe Baden-Württemberg e.V.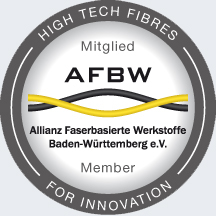 Messetermine
Currently there are no events.
Career
Are you interested to be trained in our company?
Please review the information about our apprenticeship professions and chances for development:
We are always happy to answer your questions and are looking forward to your application.